Tourism in Girona
Girona
It's a town near Barcelona, nestled between the sea and mountains. It has a privileged location.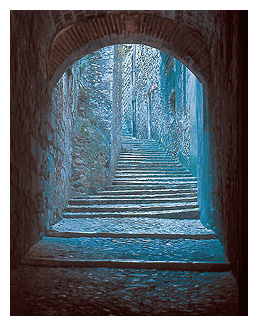 Its old town is one of the most evocative historical centers in Catalonia, with unique things in Europe like the Carolingian wall or the Jewish quarter. The bridges over the river Onyar are the accesses to the oldest part of town. It contains the Cathedral and Sant Feliu's church. The elegant Romanesque buildings such as the ancient monastery of Sant Pere de Galligants or the Arab baths give a special feeling to the city.
A constant reference skyline is the image of the Cathedral, which has the widest Gothic nave in Europe. It stands beside one of the most unique, the Call, the old Jewish quarter.
It is built with different styles (XI-XVII), retains elements of the first Romanesque building (cloister and tower of Charlemagne). The most spectacular thing it has is the widest Gothic vaulted space of the world.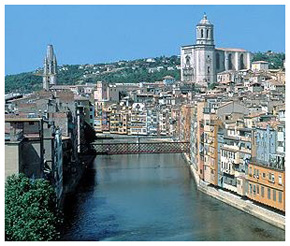 Girona also has six museums that have an endowment of great interest, and other places to visit such as:
• Sant Pere de Galligants
• Sant Feliu
• Arab Baths
• Jewish Quarter of Girona
• Houses of Onyar
• Sant Martí
• Walk the wall
• Sant Nicolau
• Street Sant Llorenç, representative of the Call
BACK

Hostalric
It's a small village that contains a medieval castle which gives its name to the village.
This castle is a well-known tourist attraction that also contains a restaurant in it.
The village is walled by eight cylindrical towers, and there's also found a church called "Santa Maria" from XVII century, and the "Relliguer" cave.
BACK

Breda
It's a little village famous for its ancient Romanesque bell tower, and its "ollas" (ceramic item).
It's a traditional cooking device that comes from the XVI century, we recommend you to buy one of its "olles" to learn how to cook "suquets".
It's also known for being the village of a famous TV serial "Vent del Pla".
BACK